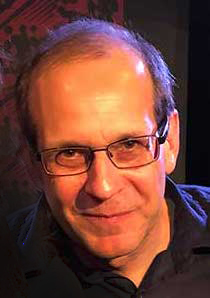 Stuart Moore is a writer, a book editor, and an award-winning comics editor. His recent novels include three volumes of the New York Times bestselling middle-grade series The Zodiac Legacy (Disney Press), created and cowritten by Stan Lee; X-Men: The Dark Phoenix Saga (Titan Books); and Thanos: Death Sentence (Marvel). Past works include John Carter: The Movie Novelization (Disney Editions) and the novelization of Marvel's Civil War comics.
Stuart's original comics include Captain Ginger and Bronze Age Boogie (both AHOY Comics) and EGOs (Image). Other recent comics work includes Batman: Nightwalker (DC Ink), Deadpool the Duck (Marvel), and Batman: Noir Alley (DC/TCM). Past comics work includes Wolverine Noir and Namor: The First Mutant (Marvel); Firestorm (DC Comics); assorted Star Trek and Transformers projects; and the science-fiction graphic novels Earthlight, PARA, Shadrach Stone, and Mandala.
Stuart currently consults on a freelance basis for AHOY Comics, holding the mysterious title of "Ops." He has been a book editor at St. Martin's Press and editor of the Virgin Comics / SciFi Channel and Marvel Knights comics imprints. At DC Comics, he was a founding editor of the acclaimed Vertigo imprint.